It has been a tremendously exhausting week – the girls and I had to roll up our sleeves and tidy up our living area. It was a chore I'd kept putting off mainly because there was so much to do. Thanks to my procrastination, what was a difficult task had morphed into an overwhelming gargantuan undertaking. I really didn't want to tackle the job, but needs must…
We managed to get a great deal accomplished alhamdulillah and it looks like we are slowly overcoming the issues with rain and leaks. We are making lots of du`aa that the repairs we invested in will help us move our library out of the girls' room and back into the extension we built. My girls have been very good sports but I know they would love a comfortable place to hang out in.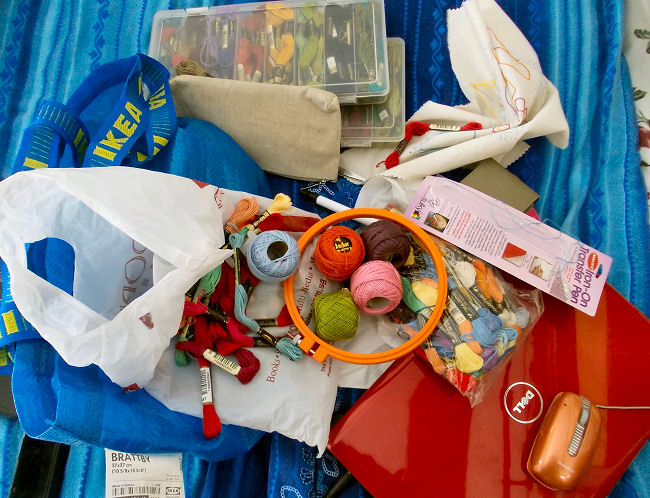 Just a minute fraction of the mess I had to clean up … the pleasant part! Some of my crafty supplies that needed organising and destashing. Anyone need any supplies?? :)
Anyway, I feel that it is high time I put up a few schooley posts and believe me, they are floating about in my head and my ever-growing drafts section in WordPress :P In shaa Allah, when I regain some energy and time. For now, another fluffy post on some less schooley things we have been doing :)
We went to Karachi Company again. (Yes, UmmeYusuf… AGAIN! Now that I know that place has burlap, I may have to schedule yet ANOTHER trip LOL!) This time, we went with my mum-in-law's helper Anees who can smell out a good bargain like no one can and who knows just about every nook and cranny of Karachi Company and Jumah Bazaar. Anees is an amazing crafter ma shaa Allah. She is from Faisalabad and back home at her village, she had learnt how to make leather shoes and sandals as well as how to crochet and embroider. She is recently engaged and embroidered an elaborate bedspread and pillow set for new home. It took her some 6 or 7 months and is really quite beautiful ma shaa Allah. (I must remember to take a pic of it!)
Anees got the pattern for her bedspread from one of the stores at Karachi Company. These stores have catalogues you can choose designs from and they will transfer the pattern for you or your embroiderer to stitch. Anees had hers transferred onto white fabric. The man below is transferring a floral pattern for a lady who wants her kameez (blouse) and dupatta (shawl) embellished. Since the fabric is a darkish colour, the pattern will be in white.

Horrid picture I know… totally out of focus. I had a hard time keeping up with Anees who was whizzing about the market a mile a minute!
Over the years, I've wanted to get heavy linen to stitch on – I love the colour and texture – but I haven't been able to find it in Pakistan. I've had a hard time explaining to the store owners what I really meant. Some kept showing me a type of printed fabric called "lilen" or lilin" – I am really not sure how to spell it or what it really is, but it is a cotton blend, I believe. It has a smoother texture though and is very comfortable to wear, but does not crease as easily as pure cotton.
I settled instead for karandi… I love this fabric to bits. It is usually sold and worn in winter as it is slightly thick. I love the feel of heavier fabrics – they have a nice 'fall' and don't cling to the body. As such, I often get long, flowy skirts made from karandi that I wear even in summer. When you first buy it, it has a stiff, nubby texture much like linen, but it softens nicely after several washes. I bought two pieces to stitch on… I think the white would be lovely for redwork. My kids have ideas for the darker cloth – they want to make bags they can embroider in shaa Allah.
So far, we have been stitching with embroidery floss – as you know by now, we have a sizeable stash :P We found some balls of perle cotton (Size 8) in the house and Mars experimented with them. Perle cotton has a more 'ropey' appearance and a pretty sheen – I like the effect that this thread has, especially with the stem stitch that we favour. I bought a few more colours and am going to try embroidering a piece using only perle cottons in shaa Allah. (For some strange reason, the store seems to have NO stock whatsoever of red perle cottons!)
Remember the redwork patterns I treated myself to for `Eid? Well, alhamdulillah, I've managed to complete one! It isn't perfect, but of all the pieces I've worked on, this was the one I enjoyed most, for many reasons :) It is a picture of stacked tea cups…

Tea asked me which stitch I normally use. I like the stem stitch … it looks like a little coiled rope and very easy to do. (I can't do a decent back stitch for toffee!)
I am almost always doing redwork. Anees is quite bewildered by this and and has asked me why my stitchery doesn't have other colours. My Urdu is terrible so I have not been able to explain to her adequately that it is a traditional art. Actually, I normally only do redwork for two reasons – (a) I genuinely like this type of embroidery and (b) without a colour guide, I am completely useless at matching up colours. It may be part of my constantly overthinking things, but whenever I choose my own palette, I am never satisfied with the end result. I am trying to challenge myself though with this piece I am working on…

This is something I hope to frame up for the kids' room… I wanted something vibrant and colourful but already I am regretting my colour choices :( I don't think they are nice at all – it looks like I am trying too hard!
We are doing a lot of reading and notebooking this week in shaa Allah, so I think stitching will be relegated to the odd evenings when we are free. If you are doing anything crafty, please share!
I pray you all are enjoying the fruits of your `ibadah during these blessed days of Muharram :)